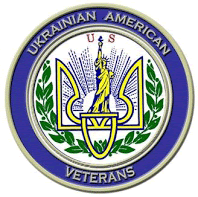 Thank you for your reservation and payment for the Ukrainian American Veterans (UAV) convention. If you paid with your PayPal account, you should receive an email confirmation of your payment from PayPal, our secure, online payment gateway. Likewise, if you paid with a credit card and provided a valid email address, you should have received an email receipt from PayPal. Please check your email and verify that your order and payment are correct.
Banquet
We look forward to seeing you at the UAV convention banquet.
St. Michael the Archangel Ukrainian Catholic Church
569 George Street
New Haven, CT 06511-5301
Website: http://stmichaelukrainian.org/
Saturday, 2 November, 2019
Cocktail hour starts at 18:00
Advertisements
We ask for your support of the Ukrainian American Veterans by advertising in our commemorative UAV convention journal. The pricing is reasonable, and your advertisement will be seen by hundreds of UAV members across the country. The journal is a compilation of advertising submitted by our patrons. It will be available at our convention and banquet. All delegates and full-page advertisers attending our banquet will receive a copy of the commemorative journal. Advertisers who have paid for a full page or greater and do not attend the convention will have the journal mailed to them upon request.
$300 – Front Inside Cover
$300 – Back Inside Cover
$300 – Back Page Cover
$130 – Full Page
$65 – Half Page
$40 – Quarter Page
$25 – 1/8 Page or Business Card Size
$10 – One Line Booster
All advertising orders must be received no later than 1 October 2019. Please download and print the Advertisement Agreement form and return it with your payment.Journal Ad Agreement Form
If you would like to purchase a full-page in memory of a loved one, please consider purchasing an "In Memory" page for $130.In Memory Page
If you would like your name listed as a booster, please download and print the Booster Page form and return it with your payment. Cost is $10.00 per booster name for non-advertisement contributions.Boosters Page Form
Questions:
Banquet: Please contact Carl R. Harvey at 203-389-6076, carlrharvey79@gmail.com.
Hotel: Please contact Carl R. Harvey at 203-389-6076, carlrharvey79@gmail.com, or Ihor B. Rudko at 860-705-1849, irudko@rudko.com.
Advertisements: Please contact Bohdan Dudycz at 847-825-1717, dahonorable@att.net.
Carl R. Harvey
Convention Chairman
941 Alling Road
Orange, CT 06477-1352
203-389-6076
carlrharvey79@gmail.com
Bohdan Dudycz
Publication Officer
8433 N. Clifton Ave
Niles, IL 60714
847-825-1717
dahonorable@att.net