We are American veterans united through both our shared military experiences and a common Ukrainian heritage. We have created a national network of veterans to promote the welfare and patriotism of our members. We continue to serve our country and our fellow veterans.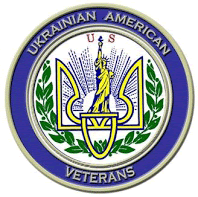 The 75th UAV National Convention will be held in Philadelphia, October 13, 14 and 15, 2022. The 2022 convention will be hosted by the UAV Post 1 (Philadelphia). The June 2022 issue of the UAV Tribune contains all the details and forms for the hotel, journal, and banquet. Please share the information with your fellow veterans, friends, and businesses. See the Annual Convention page for details.
UAV Responds to Invasion of Ukraine
Слава Українi! Героям Слава! (Glory to Ukraine, Glory to its Heroes)
The UAV National Executive Board met on Monday night, 1 March 2022, to discuss the Russian invasion of Ukraine and draft our response. National Commander Ihor Rudko sent a letter to all UAV members the following day. You can find the full text of the letter in the News section of the UAV website. An excerpt follows.
It is completely overwhelming to watch this level of unprovoked and unjustified aggression in the 21st century against Ukraine. The most brutal warfare in seventy years has been unleashed on a peaceful country by Vladimir Putin, a thug of the highest order. The world is witnessing another attempt at genocide on the Ukrainian people.

Know this, my fellow Ukrainians, the level of support coming into Ukraine from across the world and from the diaspora is incredible. Munitions and supplies are en route. With international help and the grace of God, this conflict will pass, leaving the Ukrainian people stronger and more unified than ever.

Donations of medical equipment and communication gear may be made to the UAV Post 32 Veterans Humanitarian Fund here in the United States. They will work out the logistics of getting funds and materials to Ukraine.

Ihor Rudko, National Commander, Ukrainian American Veterans
Membership
To become a member of the Ukrainian American Veterans (UAV), please complete a UAV Membership Application Form and submit it with payment of annual dues. See the Membership page for eligibility requirements and application form.
Mission
Our mission is to unite American Veterans of Ukrainian descent, and we pledge to sustain the Constitution, Government and laws of the United States.
The UAV provides assistance to veterans and their families through welfare programs.
The UAV also participates in veteran recognition projects.