We are American veterans united through both our shared military experiences and a common Ukrainian heritage. We have created a national network of veterans to promote the welfare and patriotism of our members. We continue to serve our country and our fellow veterans.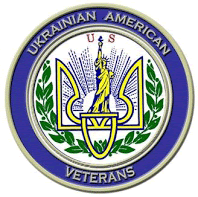 Mark your calendar! The 76th UAV National Convention will be held at the Soyuzivka Heritage Center in Kerhonkson, New York, Thursday-Saturday, September 21-23, 2023. The 2023 convention will be hosted by the UAV New York State Department.  The June 2023 issue of the UAV Tribune will contain all the details and forms for the hotel, journal, and banquet. Please share the information with your fellow veterans, friends, and businesses. See the Annual Convention page for details.
Support Ukraine
Слава Українi! Героям Слава! (Glory to Ukraine, Glory to its Heroes)
Donations may be made to the UAV Post 32 Veterans Humanitarian Fund.
Membership
To become a member of the Ukrainian American Veterans (UAV), please complete a UAV Membership Application Form and submit it with payment of annual dues. See the Membership page for eligibility requirements and application form.
Mission
Our mission is to unite American Veterans of Ukrainian descent, and we pledge to sustain the Constitution, Government and laws of the United States.
The UAV provides assistance to veterans and their families through welfare programs.
The UAV also participates in veteran recognition projects.