Ukrainian American Veterans (UAV) Post 27 was founded in 1989. John Terrebetzky is the post's patron. The first Commander was Peter Polnyj.
Post 27 Founding
On 3 December 1989, veterans Mike Buczek, Alex Kohut, Nick Peshniak, Peter Polnyj, Peter Terrebetzky and Steve Shewczuk were welcomed by National Financial Officer Harold Bochonko at the first meeting of Ukrainian American Veterans of Brooklyn. At this time, Mr. Bochonko informed us that we would be known as Post 27. The first officers elected were Commander Peter Polnyj, Vice Commander Nick Peshniak, Adjutant Peter Terrebetzky, Finance Officer Mike Buczek, Judge Advocate Steve Shewczuk, and Chaplain Alex Kohut.
The second meeting of the Post, January 28, 1990, saw two more new members who, along with the original six, were officially installed as members and officers of the Post. At each monthly meeting, more veterans joined so that within the year there were 18 veterans in Post 27.
Post 27 Activities and Projects
Over the first few years, Post 27 participated in local activities such as guard duty at Holy Ghost Ukrainian Catholic Church on Good Fridays, Memorial Day, Veterans Day, and 'Panakhydas' for fallen Ukrainian heroes.
As the Post gained new members, it initiated a renewed interest in the local community as to their stature and maturity regarding other activities, besides an organization that is only involved in itself.
Blessing of the Flags
To show the skeptics that Post 27 was not a 'fly by night' organization, the first major undertaking involved the blessing of the flags of the post. In conjunction with the Ukrainian National Home (UNH) of Brooklyn, which also had to have its colors blessed, a Liturgy and dinner was proposed.
Due to the financial status of the Post,and because of its short existence, the UNH undertook the majority of the financial responsibility for the occasion.
On November 27, 1991 a Liturgy and flag blessing ceremony took place at Holy Ghost Church, conducted by Very Rev. George Binkowski. Both church parishioners and community activists were witnesses at this event. Afterwards, all invited guests proceeded to the Holy Ghost School Auditorium for the dinner-banquet.
Prior to the dinner, there was the Presentation of Colors, Invocation, singing of American and Ukrainian Anthems, and Oath of Membership to seven new members, officiated by National Vice Commander Bochonko.
During his opening remarks, Post Commander Polnyj announced Post 27 had selected John Terrebetzky as its patron (namesake).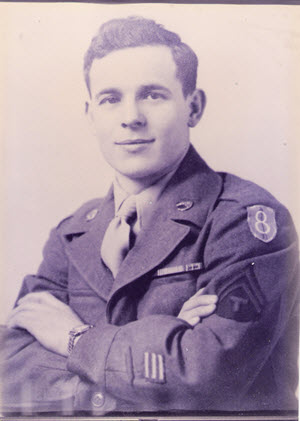 UAV Post 27 patron John Terrebetzky was a member of the US Army 8th Infantry Division Headquarters company. He landed at Normandy on D-Day and fought in 30 battles and campaigns including Normandy, Northern France, Central Europe, Rhineland. Decorations include the American Defense Service Medal, European–African–Middle Eastern Campaign Medal, and WWII Victory Medal. Technician 5th grade Terrebetzky served from 19 March 1941 to 9 September 1945.

Photo and biographical information provided by John's son, Peter Terrebetzky.
The keynote speaker was Joseph Lesawyer, former President of the Ukrainian National Association (UNA), with guest speaker Roman Popadiuk, who was then an Assistant Press Secretary for Foreign Affairs to President George Bush. Mr. Popadiuk was made an honorary member of Post 27.
As the post reflected on the success of the event, questions arose as to how to top this event. The question was answered when Ukrainians in America learned that Mr. Popadiuk was nominated as United States Ambassador to Ukraine in March, 1992.
Roman Popadiuk, Ambassador to Ukraine
On Dec. 15, 1991, Steven Shewczuk was elected Commander of Post 27. At the initiative of UNH President Peter Polnyj and Commander Shewczuk, another joint venture was undertaken.
Under the aegis of the Ukrainian Congress Committee of America, the UNH of Brooklyn, UAV Post 27, and the United Ukrainian Organizations of New York City, April 5, 1992, will be remembered as one of the most glorious days in the New York City community.
At the Holy Ghost Church auditorium, over 300 people attended the function, including numerous members from Congress, local government officials, clergy from all Ukrainian denominations, members from the Ukrainian Embassy to the United Nations, and representatives from many Ukrainian organizations too numerous to mention, along with the general public. Ukrainians took this opportunity to honor one of their own, as "Local boy does good," at Roman Popadiuk's official appearance as United States Ambassador to Ukraine.
All proceeds from this event, over $4,000, were donated to the Children of Chornobyl Fund.
National Service
Post 27 has hosted the 46th, 50th, 51st and 54th annual UAV National Conventions.
Several Post 27 members have served the UAV in higher office, both in the New York State Department and in the UAV National Executive Board. In 1997, Stephen Szewczuk was the first Post 27 member to be elected as UAV National Commander and in 2000, Mathew Koziak succeeded him as National Commander.
Through its perseverance, Post 27 has overcome all adversity thrown its way. It has gained respect in the Greater New York City area by its attendance and assistance in the role of unofficial ambassadors of goodwill in the community. Its representation as Ukrainian American Veterans will keep the traditions of our Fatherland alive and pass on this legacy to our children.
Contact
The current Post 27 Commander and New York State Commander is Peter Polnyj.
Peter Polnyj
5855 Amboy Rd
Staten Island, NY 10309-3110
718-869-3634
peterpolny@aol.com