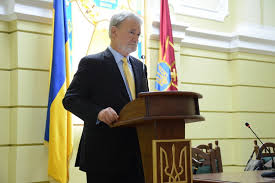 The Ukrainian American Veterans (UAV) are proud to announce that Dr. Phillip Karber will be the keynote speaker at the 2019 UAV Annual Convention.
Phillip Karber is president of the Potomac Foundation and an adjunct assistant professor at Georgetown University, Washington, DC. A former Marine, he worked with General Donn Starry and the US Army Training and Doctrine Command on Lessons Learned from the 1973 Yom Kippur War, and he served as strategy adviser to former Secretary of Defense Caspar Weinberger.
Dr. Karber is an internationally recognized authority on defense and national security matters; an accomplished business executive; and a university professor. He has prepared studies and recommendations on defense strategy for the highest levels of the US government; advised many NATO governments on defense issues; headed BDM Corporation's International Division; served as JFK International Air Terminal's Chairman of the Board; and teaches courses in national security and military affairs at Georgetown University.
Academic
Since 1978 Dr. Karber has taught courses in international security studies and military strategy in Georgetown University's Government Department, School of Foreign Service, National Security Program, as well as Science, Technology & International Affairs curriculum.
Professor of Strategy & Praxis at Georgetown University's Machiavelli Seminar
Adjunct Professor in the Government Department since 1978
Lecturer in the Science & Technology in International Affairs program
His courses include:
Contemporary Chinese & Russian Military Thought
Military Technology & Competitive Strategy
Terrorism & International Law
National Security Decision-Making
War & Philosophy" (at George Washington University)
Military Strategy & Operational Art" (at the National War College)
Education
Dr. Karber earned his BA in political science from Pepperdine College, and he earned his PhD in international law as a graduate fellow at the Center for Strategic and International Studies of Georgetown University. Later, he earned certificates from the Kennedy School of Government at Harvard, the Wharton Business School, and the Harvard Business School.
Government Service
A former US Marine, in 1968 he was brought to Washington by Admiral Arleigh Burke to serve as National Security Assistant to the Ranking Minority Member of the Congressional Joint Committee on Atomic Energy. In the early 1970s he organized the JCS presentations to Congress on the Enhanced Radiation Warhead, co-authored (with Morton Kaplan) the original "Dissuasion Strategy," worked on the SACEUR Strategic Strike Plan, and served on Secretary of Defense Schlesinger's DARPA/Defense Nuclear Agency "New Alternatives" panel evaluating selective nuclear options.
Karber was named in 1974 as Director of the presidentially mandated National Security Study Memorandum (NSSM) 186 – the National Security Council inter-agency evaluation of US-Soviet multipurpose forces. NSSM-186 served four Administrations and became the Pentagon's standard comparative military "Net Assessment" methodology for tracking and evaluating force development and technology trends at the theater level through the end of the Cold War.
Karber worked closely with US Army Generals Depuy and Starry in evaluating the "Lessons Learned" from the 1973 Mid-East War, and the development of the new Army operating concept "Air-land Battle." A member of the Army Science Board, he was a contributing author to TRADOC's Battlefield Development Plan, and he served on the 9th Division high-technology study at the request of Army Chief of Staff.
In 1981 Secretary of Defense Caspar Weinberger recruited Karber to serve as the founding Director of the Strategic Concepts Development Center (SCDC) – later renamed the Institute for National Strategic Studies at the National Defense University – and designated him "strategy advisor", reporting directly to the Secretary of Defense and Chairman of the Joint Chiefs. The SCDC evaluated a variety of conventional and nuclear technology alternatives, developed the concept of Competitive Strategy, authored the Annual Posture statement and orchestrated Proud Prophet – one of the largest joint tests of US war plans and the only war game in which any Secretary of Defense and Chairman of the Joint Chiefs actively participated.
In the mid-1980s U.S. Ambassador to NATO, David Abshire, tasked Karber to lead the first "NATO Net Assessment" and presented it to a joint session of the NATO Political and Military Committees. In 1986, Secretary of State George Shultz commissioned Karber to conduct a special project for the President.
In the late 1980s, Karber also served as external advisor to
British Prime Minister, Margret Thatcher
Secretary General of NATO, Manfred Worner
CEO of Ford Motor, Red Poling
He has testified numerous times before the US Congress and appeared before the Parliamentary Committees of Canada, Denmark, France, Germany, Netherlands, Poland, South Korea, Sweden, and United Kingdom. Over a forty-year period from 1976-2016, Karber has assisted five NATO Supreme Allied Commanders: Al Haig, Bernie Rogers, Jack Galvin, Wes Clark and, most recently, Phil Breedlove.
At the end of the Cold War, Karber ran a special team for the U.S. Government that:
acquired Soviet military technology
he recruited, trained and delivered the Free Kuwait Army (4 battalions) in support of "Desert Storm;
under his direction organized the only interviews ever done with 40 of the top Soviet general officers on their Cold War military operational and strategic planning
In 1988, Phillip Karber helped establish The Potomac Foundation as a non-profit/non-partisan research center, has been a Senior Fellow there since, and was named the organization's 3rd President in March 2012. Secretary of Defense Frank Carlucci named Karber to the U.S. Delegation of the Quadripartite (US, Russia, China and Japan) talks on Security in Asia. During the early 1990s, he spent three years throughout much of China working with their civilian Air Traffic Control system. At the request of the Director of the Defense Threat Reduction Agency, in 2008 Karber let the first "open source" study of China's strategic force and "Underground Great Wall" tunnel complex – descried by the Defense Science Board as a "model of its kind." In 2010 Karber co-authored the path-breaking "China Macht" long-term trend-analysis and force projection study commissioned by the European Union evaluating Chinese military modernization.
Private Industry
In private industry, Karber served 25 years as an executive with the BDM Corporation, an international engineering/technology services firm (now a part of Northrop Corporation) where, in his last position as Group Vice President, he headed the International division managing 6,000 overseas employees in 23 countries in Asia, Europe, Latin America and the Mid-East. He was also a member of the Board of Directors of Weirton Steel for 7 years and chaired that NY Stock Exchange listed company's Audit Committee.
Between 1997 and 2004 Karber served as Chairman of the Board of JFK International Air Terminal — the international consortium selected by the Port Authority of New York and New Jersey to privatize, rebuild and operate the Kennedy Airport International Arrivals Terminal. This multi-billion dollar project was, in its time, the largest privatized airport reconstruction in the world. Karber was a speaker on "Air Traffic Control in China" for the 1995 convention on Future Air Navigation Systems (FANS); gave the keynote speech at the 1997 international symposium on "Transportation and the Environment" sponsored by Japan; and Secretary of Transportation invited speaker at the 1999 Global Aviation Ministerial in Chicago.
Publications
Karber authored one of the first behavioral studies of terrorism published in the United States, (Social Science Quarterly, 1971), produced a series of terrorism studies for the International Chiefs of Police (1971-73), Atomic Energy Commission (1974), Nuclear Regulatory Commission and Department of Energy (1975-76), and presented research on this topic to the American Psychological (1973), Sociological (1972) and Political Science Associations (1970-71, 73). He authored chapters in the books: Essays in Political Science (1974), Role of Behavioral Science in Physical Security (1978), and Managing Terrorism (1983).
Karber's military writings have appeared in two dozen books and more than 40 articles published in the Adelphi Papers, Air Force magazine, Air Force & Space Digest, Armed Forces Journal, Armor, Army, Bulletin of Atomic Scientists, International Security, Marine Corps Gazette, Military Review, Orbis, Survival, Strategic Review and Wehrkunde. His 1984 mongraph, Playdoyer fur die Vornverteidigung, was distributed to every officer of the Bundeswehr on order of the German Minister of Defense. His scholarly publications have appeared in the Harvard Journal of Law & Public Policy, the Proceedings of the American Society of International Law, and the Journal of Diplomatic History. He is the editor of the book On the International Frontier (2012); author of the monograph Net Assessment for SecDef (2014), and contributing author of the recently published book: Baltic Security Net Assessment (2017) published by
the Baltic Defense College.
Southeast Asia
Between 2009-12, and 2015-17, Karber led an OSD effort assessing China's posture in Southeast Asia – was in the field with the Philippine Navy SEALs and Marines and visiting Thailand, Borneo, Malaysia, Singapore and South China Sea – briefing his conclusions to the PACOM/USARPAC Commanders and Australian Joint Chiefs of Staff. In 2013 he conducted an on-site vulnerability assessment of the Panama Canal.
Ukraine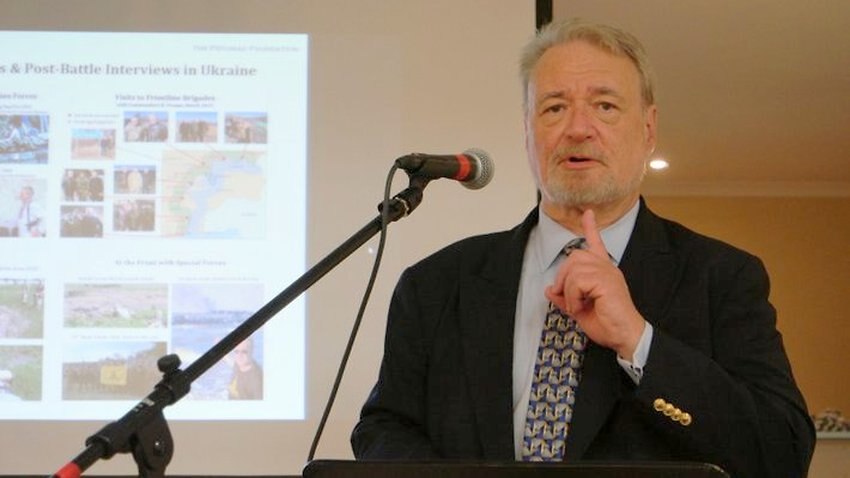 At the request of the Ukrainian Government, between 2014-18 Karber conducted 31 visits to the combat zone spending 180 days with front-line units in combat, interviewing commanders and submitting 60 reports to General Phil Breedlove, NATO SACEUR. He and General (retired) Wesley Clark presented the first reports on Ukraine to the Congressional Armed Services Committee in April and July 2014. His 2015 report on "Lesson Learned from the Russo-Ukraine War" was commissioned by Lieutenant General H.R. McMaster and, at his request, Karber has given over a hundred lectures and briefings on that conflict to: the Chief of Staff leadership conference, commanders and units of the US Army, Marine Corps, Navy, and Air Force, as well as the National Security Council, Pentagon, and State Department.
Karber was one of the first to highlight "Russia's New Generation Warfare" (National GeoSpatial-Intelligence Agency Pathfinder 2015, & Army Magazine 2016), was instrumental in TRADOC's formation of their New Generation Warfare study and served as a consultant to that effort. He played a key role in serving as the Army's NGW liaison to both OSD and the Ukrainian General Staff – working with their Chief to support the US NGW team, and personally accompanied its leader, Brigadier General Pete Jones, to Ukraine and to the front. Over the last year he has briefed the senior civilian and military leadership of Britain, Denmark, Estonia, Finland, Germany, Italy, Latvia, Lithuania, Norway, Poland and Sweden on Russian military trends and served as adviser to UK's Allied Rapid Reaction Corps.
Private Life
A polo player whose teams have won national championships, he was also Governor of the US Polo Association, trustee of the Great Meadow steeplechase and for a decade, Captain of the "Horse Marines" Polo Team – veteran players raising funds to support therapeutic riding for injured warriors. He resides at Normandy Farm in Great Falls, Virginia, raising polo ponies and thoroughbred dressage horses.