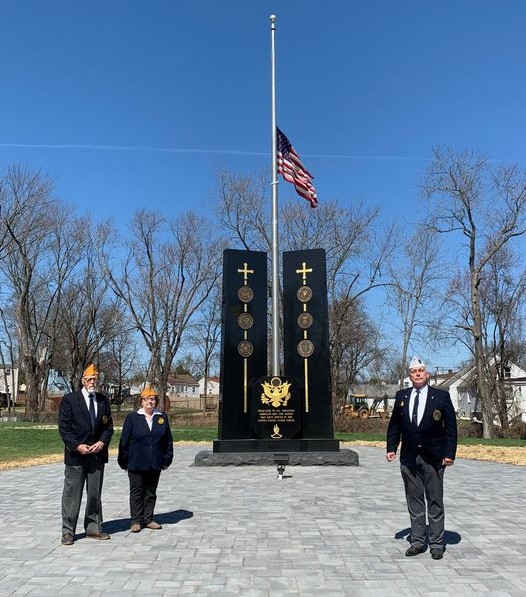 On Tuesday, 30 March 2021, the UAV National Monument Officer, PNC Matt Koziak, and the UAV National Monument Treasurer, PNC Anna Krawczuk, visited the Ukrainian American Veterans National Monument on the grounds of St. Andrew's Memorial Church in South Bound Brook, New Jersey.
The contractor has finished the surrounding plaza, and it looks great. Just in time for Easter, St. Thomas Sunday, and Memorial Day. Job well done.
I am an ex-officio member of the Monument Committee, and I was greatly impressed when Matt, his wife Oksana (UAV National Ladies Auxiliary President), and Anna, recounted the first time, 20 years ago, when they were driven to the front of the church and shown where the monument would go. There isn't anyone who has driven by the monument who has failed to see this beautiful tribute to our Ukrainian American Veterans, living, serving, and those up in heaven guarding its streets and gate.
To Matt and Anna, let us not forget their vision, their work, their dedication, and, most of all – they were both National Commanders during this project – their leadership.
Our organization should be a beacon for the Ukrainian Diaspora, to stop divisive and corrosive behavior, and instead be proud of being Ukrainian. Not long from now we will have a column in the Ukrainian Weekly, and we will share our vision, and most of all our leadership, to lead Ukrainians to unite, to support our great nation against all enemies, foreign and domestic, and to support Ukraine.
We will never forget, as our Wounded Warrior Team learned at the Veterans Forum in Ukraine in August, 2018- Там де ми, там Україна ! Where we find ourselves, there lies Ukraine!
Slava Ukrainia! God bless the USA!
Freedom forever, at any cost!
Michael P. Hrycak
LTC, USA, Retired
Commander, New Jersey Department
Ukrainian American Veterans
---
National Monument Dedication
The UAV National Monument was officially dedicated on Saturday, 3 October 2015. It is the culmination of many years of planning and fundraising.
National Monument Committee
The UAV National Monument Committee first met on October 21, 2004, at a meeting presided over by newly-elected UAV National Commander Anna Krawczuk.
Co-Chairmen of the committee are UAV Past National Commander Mathew Koziak and the Rev. Protopresbyter Frank Estocin, Ukrainian Orthodox Church. The Treasurer is National Commander Anna Krawczuk
Location
St. Andrew's Ukrainian Orthodox Cemetery
280 Main Street
South Bound Brook, New Jersey