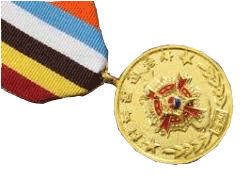 United States Army veteran Chris Labiak received the "Ambassador for Peace" medal from a representative of the Korean Government for his service in Korea. Chris is the son of Ukrainian American Veterans (UAV) Post 1 member Pete Labiak. Chris had previously been awarded the Bronze Star with "V" for valor. Five veterans, including Chris, received recognition in August.
Ambassador for Peace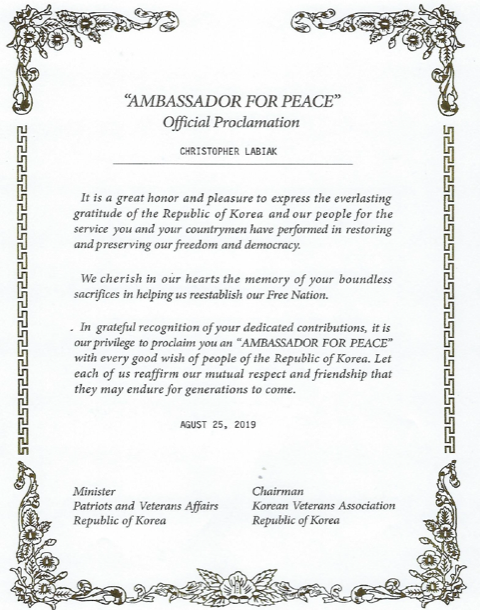 It is a great honor and pleasure to express the everlasting gratitude of the Republic of Korea and our people for the service you and your countrymen have performed in restoring and preserving our freedom and democracy.

We cherish in our hearts the memory of your boundless sacrifices in helping to reestablish our Free Nation.

In recognition of your dedicated contributions, it is our privelege to proclaim you an "AMBASSADOR FOR PEACE" with every good wish of the people of the Republic of Korea. Let each of us reaffirm our mutual respect and friendship that they may endure for generations to come.
Chris Labiak Bronze Star Medal
Chris Labiak had previously been awarded the Bronze Star with "V" for valor.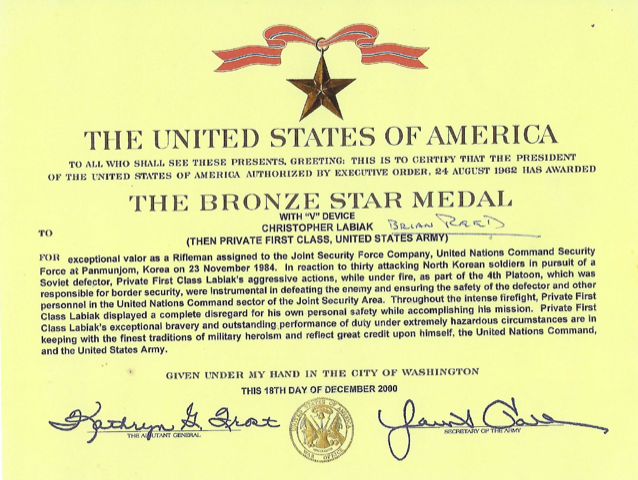 The Bronze Star was awarded for
"exceptional valor as a Rifleman assigned to Joint Security Force Company, United Nations Command Security Force at Panmunjom, Korea on 23 November 1984. In reaction to thirty North Korean soldiers in pursuit of a Soviet defector, Private First Class Labiak's aggressive actions, while under fire, as part of the 4th Platoon, which was responsible for border security, were instrumental in defeating the enemy and ensuring the safety of the defector and other personnel in the United Nations Command sector of the Joint Security area. Throughout the intense firefight, Private First Class Labiak displayed a complete disregard for his own personal safety while accomplishing his mission. Private First Class Labiak's exceptional bravery and outstanding performance of duty under extremely hazardous circumstances are in keeping with the finest traditions of military heroism and reflect great credit upon himself, the United Nations Command, and the United States Army."

The Bronze Star Medal, with "V" device for valor, awarded to then Private First class Christopher Labiak, United States Army, on 18 December 2000
Interested in receiving the Korean "Ambassador for Peace" medal?
If you are a Korean War veteran, you may be eligible for the Korean Ambassador for Peace Medal. The medal is an expression of appreciation from the Korean government to members of the United States Armed Forces who served in the Korean conflict.
To be eligible, veterans must have served in Korea during the Korean War from June 25, 1950 to July 27, 1953. It is also available for veterans who have participated in UN peacekeeping operations until the end of 1955. Navy veterans are eligible if their naval vessel was assigned to Korean waters during the 1950 to 1953 time frame. To establish eligibility, you need a copy of your DD 214.
The commemorative medals may be awarded posthumously. The next of kin, such as the spouse or descendants, may apply for the medal on behalf of a deceased veteran.
There are no costs or fees to the family or to the veteran.
Please send your completed Ambassador for Peace Medal application form to

Republic of Korean Consulate-Boston
300 Washington Street, 2nd Floor
Newton MA 02458
Telephone: (617) 641-2830
Fax: (617) 641-2831
For more information about applying for the Republic of Korea Ambassador for Peace Medal, please visit the Massachusetts Department of Veteran Services' website.