Have you visited the Ukrainian American Veterans (UAV) website lately? Does anything look different?
If you did visit the site, you probably noticed a big difference. The UAV launched a new website in August, 2019. The UAV webmaster, Joe Nasevich, has been working on a new website design the during the last few weeks, and those efforts came to fruition with the launch of a shiny, new site during the wee hours of Sunday, 18 August 2019. And what did you do during your summer vacation?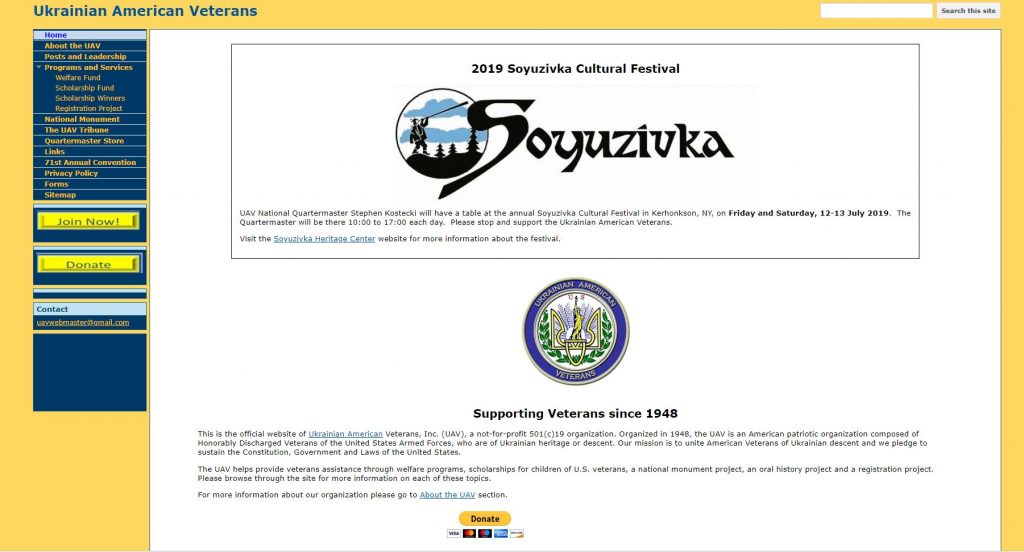 Remember the old UAV website?
Features
The new UAV website features
modern, responsive web design
easy to find button links for membership, donations and finding information about the annual convention
copies of past issues of the UAV Tribune
new Quartermaster store with modern, online shopping cart (sorry, no online payments yet)
dynamically calculated shipping costs within the online shopping cart
no more third-party ads appearing on our UAV site
Coming soon…
individual web pages for each UAV post (this is already in progress…)
more products from the Quartermaster
online payments for the annual convention (banquet, advertisements)
signup for our new online mailing list
online payments for the Quartermaster store
And for you web geeks…
SSL security certificate for encrypting traffic (required for eCommerce)
dedicated IP address (also handy for eCommerce)
modern content management system (CMS) for maintaining the site
search engine optimization (SEO)
Google analytics to track and analyze web traffic
accessible content
Support Our Work
Do you like the new website? Yes? We thought so…
But all this technology isn't free. Help us keep the lights on and the website running. Make a donation to the UAV General Fund and support our work.
Tell us what you think
Take a look and let us know what you think of the new UAV website. We think you'll like it!
Is there a feature you wish we would add? Please let us know.
Send your comments by email to the UAV Webmaster, or comment on the UAV Facebook page.