The National Cemetery Administration (NCA) honors Veterans and their families with final resting places in national shrines and lasting tributes that commemorate their service and sacrifice to our Nation. The NCA offers free burial services to eligible veterans at over 151 national cemeteries nationwide.
Les' Melnyk, Chief of Public Affairs & Outreach for the National Cemetery Administration (NCA), Dept. of Veterans Affairs, addressed the delegates at the Ukrainian American Veterans 73rd Annual Convention on Friday, 6 November 2020. Melnyk spoke about the history and mission of the National Cemetery Administration, and then he discussed eligibility criteria for veterans and their families.
You can download Melnyk's slides below.
Burial Benefits
Free burial benefits available include:
a gravesite in any of the 151 national cemeteries with available space
opening and closing of the grave
perpetual care
All of the above are available at no cost to the family. Some Veterans may also be eligible for Burial Allowances. Cremated remains are buried or inurned in national cemeteries in the same manner and with the same honors as casketed remains
Burial benefits available for spouses and dependents buried in a national cemetery include burial with the Veteran, perpetual care, and the spouse or dependents name and date of birth and death will be inscribed on the Veteran's headstone, at no cost to the family. Eligible spouses and dependents may be buried, even if they predecease the Veteran.
The Veterans family should make funeral or cremation arrangements with a funeral provider or cremation office. Any item or service obtained from a funeral home or cremation office will be at the family's expense. The VA created Planning Your Legacy: VA Survivors and Burial Benefits Kit, to assist Veterans and their family members in pre-need planning and record storage.
Headstones, Markers and Medallions
Most Veterans with a discharge other than dishonorable are eligible to receive a headstone, marker or medallion, at no cost to the applicant.
Presidential Memorial Certificate
A Presidential Memorial Certificate (PMC) is an engraved paper certificate, signed by the current President. Veterans can request a certificate from each president.
Burial Flags
A United States flag is provided, at no cost, to drape the casket or accompany the urn of a deceased Veteran who served honorably in the United States Armed Forces.
Burial Allowance
VA burial allowances are flat rate monetary benefits that are paid for an eligible Veteran's burial and funeral costs.
Eligibility
Veterans, including some National Guard and Reservists, are eligible for free burial benefits. The National Cemetery Scheduling Office has the primary responsibility for verifying eligibility for burial in VA national cemeteries.
Any Veteran who dies on active duty or was discharged under qualifying conditions (any discharge other than dishonorable)
National Guard members and Reservists with 20 years of qualifying service, who are entitled to retired pay
Spouses, dependent children and certain parents
National Cemetery Administration during the Pandemic
The NCA has continued to inter Veterans without pause during the 2020 pandemic. Cemeteries were never closed However, due to COVID-19, the NCA conducted "direct interments" (without a committal service) from 23 March through 8 June 2020. Committal Services are now allowed everywhere, but with some additional restrictions.
Attendance limited based on federal, state and local health guidelines
Masks, social distancing requirements
Contact the National Cemetery Administration to Schedule a Burial
To schedule a burial in all Department of Veterans Affairs National Cemeteries, please contact the National Cemetery Scheduling Office. The National Cemetery Scheduling Office serves all national cemeteries, seven days a week, 362 days a year.
You can call the their toll-free number at 1-800-535-1117.
National Cemetery Administration Slide Deck
Click the button below to download the slides presented during the convention. Slides are in PDF format (707 KB).
Les' Melnyk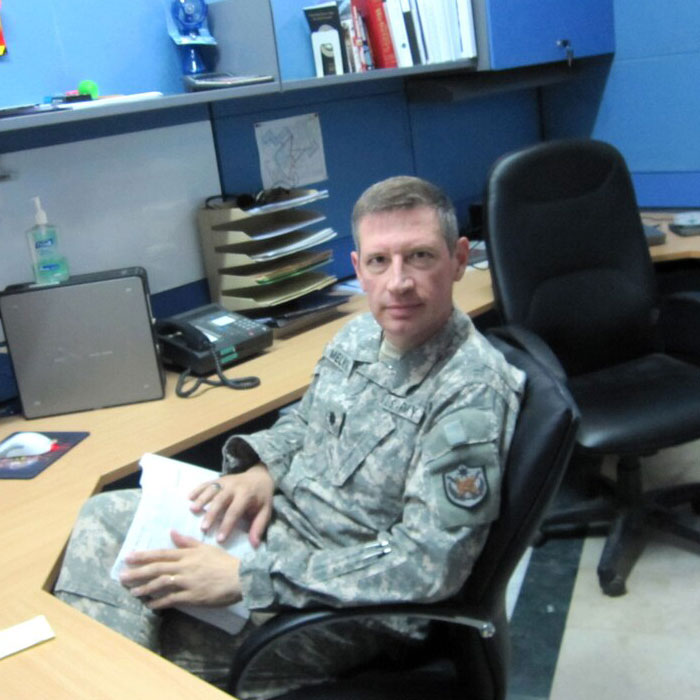 Les' Melnyk is the Chief of Public Affairs & Outreach for the National Cemetery Administration (NCA), Department of Veterans Affairs. He supervises the public affairs staff and has overall responsibility for media relations, social media, and outreach efforts in the NCA.