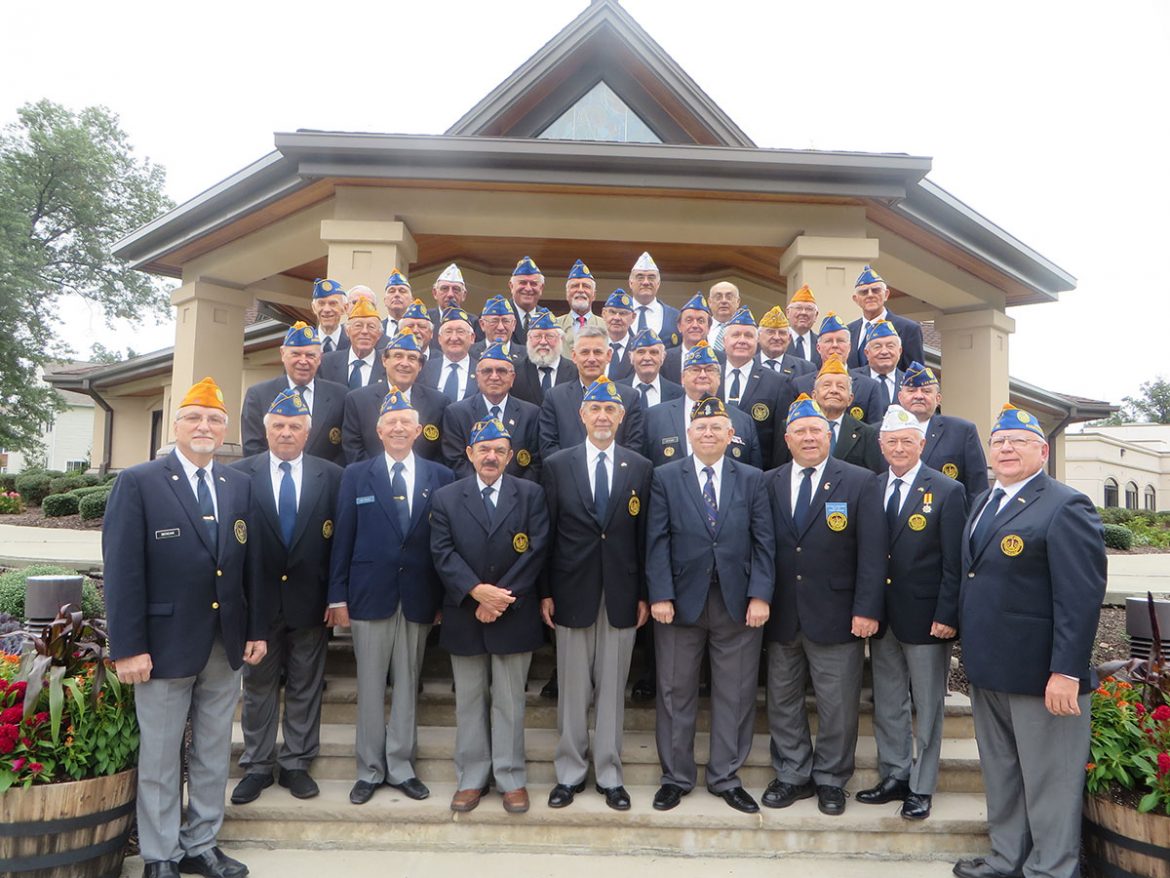 Ukrainian American Veterans hold 71st National Convention
The Ukrainian American Veterans organization concluded its two-day annual National Convention on Saturday, October 6. Forty delegates met to discuss national UAV policies and to elect a new National Executive Board.
The board had two major personnel changes. The national commander is an elected position and the adjutant is customarily appointed by the newly elected commander. Connecticut State Commander Ihor B. Rudko was unanimously elected to serve a two-year term as National Commander. He appointed Chicago Post 32 Commander George Horbenko as his adjutant. The previous National Commander, Peter Bencak, relinquished his post to focus on his growing family, while his adjutant, John Steciw, is pursuing other career commitments.
Also serving on the new National Executive Board are
Vice-Commander: Matthew Wroblewski
Finance Officer: Jerry Kindrachuk
Judge Advocate: Michael Hrycak
Quartermaster: Stephen Kostecki
Service Officer/Chaplain:Marian Bojsiuk
Welfare Officer: Roman Stefaniuk
Scholarship Officer: Nicholas Skirka
Historian: Edward A. Zetick
PR/Publications Officer: Bohdan Dudycz
National Monument Officer: Mathew Koziak,
Immediate Past National Commander: Peter Bencak
UAV National Registry Officer: Anna Krawczuk
Webmaster: Joe Nasevich
Ladies Auxiliary President: Oksana Koziak
The dynamic two-year term of Bencak and Steciw was filled with many accomplishments, notably the establishment of a humanitarian fund to help soldiers wounded in the war with Russia. They were also a part of the UAV delegation to Ukraine where they joined Ukrainian President Petro Poroshenko and other dignitaries in discussions aimed at establishing a Ukrainian Veterans Administration.
The 71st National Convention of the UAV, held in Whippany, N.J., was hosted by UAV Post 17 and organized by Commander Walter Kovbasniuk and Adjutant Zenko Halkowycz.
The attractive Ukrainian American Cultural Center of New Jersey (UACCNJ) provided a comfortable setting for delegates' deliberations and debates. For two days, delegates, guests and members of the Ladies Auxiliary participated in different facets of convention activities.
Following the formal convention agenda, including the election of national officers, participants, guests and representatives of Ukrainian organizations attended the official UAV banquet in the UACCNJ's main hall.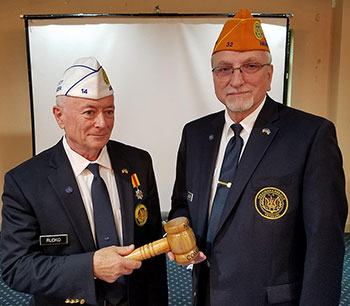 The national colors were posted, followed by a poignant POW-MIA ceremony, presented by former Adjutant Steciw. Invocations were given by the Rev. Stepan Bilyk, pastor of St. John the Baptist Ukrainian Catholic Church in Whippany, and National Chaplain Bojsiuk. The mistress of ceremonies, Roma Hadzewycz, editor-in-chief of The Ukrainian Weekly and Svoboda, was introduced.
The newly elected National Executive Board and the Ladies Auxiliary leadership were sworn in to serve during the 2018-2020 period.
The banquet's keynote speaker was Andre Sochaniwsky, president of the Ukrainian War Veterans Association of Canada. Additional speeches were imparted by Col. Andrii Ordynovych, acting defense attaché and military attaché of Ukraine's Embassy in the United States, Immediate Past National Commander Bencak, National Commander Rudko and Ms. Koziak, president of the UAV National Ladies Auxiliary. Among other notables present was Col. Mykhaylo Kyrylenko, military adviser to the Permanent Mission of Ukraine to the United Nations.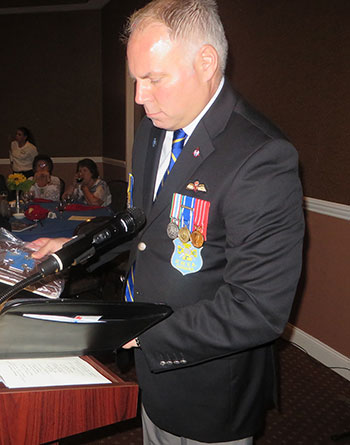 Greetings were offered by Michael Sawkiw Jr., vice-president of the Ukrainian Congress Committee of America, director of the Ukrainian National Information Service and chairman of the U.S. Committee for Ukrainian Holodomor-Genocide Awareness. Written greetings were received from the World Executive of the Ukrainian Youth Association and the U.S.A. Board of Directors of Plast Ukrainian Scouting Organization.
The Republican Party candidate for the U.S. Senate from New Jersey, Bob Hugin, spoke briefly during the banquet, noting his service in the U.S. Marine Corps. Another Republican candidate, New Jersey State Assemblyman Jay Webber, who is running for the U.S. Congress in the 11th Congressional District, was present during the cocktail hour that preceded dinner.
Various awards of appreciation and tokens of remembrance were awarded to several World War II veterans and others for their service to the UAV.
The formal portion of the banquet was followed by an evening of performances, camaraderie and dancing. Featured were the Iskra Ukrainian Dance Academy (whose artistic director is Andrij Cybyk) and singers Anya Kosachevich, Roman and Zorian Kovbasniuk, Lilliana and Alex Chudolij, and Zoryana Kovbasniuk, who also emceed the entertainment program. Music and dancing continued until the evening's end.