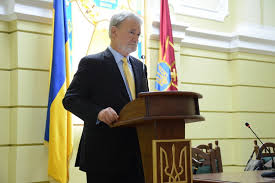 The Ukrainian American Veterans (UAV) are proud to announce that Dr. Phillip Karber will be the keynote speaker at the 2019 UAV Annual Convention.
Phillip Karber is president of the Potomac Foundation and an adjunct assistant professor at Georgetown University, Washington, DC. A former Marine, he worked with General Donn Starry and the US Army Training and Doctrine Command on Lessons Learned from the 1973 Yom Kippur War, and he served as strategy adviser to former Secretary of Defense Caspar Weinberger.
Dr. Karber is an internationally recognized authority on defense and national security matters; an accomplished business executive; and a university professor. He has prepared studies and recommendations on defense strategy for the highest levels of the US government; advised many NATO governments on defense issues; headed BDM Corporation's International Division; served as JFK International Air Terminal's Chairman of the Board; and teaches courses in national security and military affairs at Georgetown University.
Continue reading

Dr. Phillip A. Karber